Storyline from
imdb
:
Upper class Americans Noel and Meg Johnson have a twenty-six year old daughter named Clara Johnson. Clara suffered a head injury as a child which resulted in her being mentally disabled. Clara's mental capacity is equivalent to that of a ten year old. In many social situations, Clara's disability can be passed off as a simple joy of life. The issue of Clara's care has placed a strain between Noel and Meg, the latter who clings to the hope that one day Clara can lead a "normal" life. While on an extended vacation through Italy, Meg and Clara meet a twenty-three year old Italian named Fabrizio Naccarelli in Florence. Fabrizio is instantly smitten with Clara, who returns the affection. Always protecting Clara, Meg initially resists Fabrizio's constant measures to insinuate himself into their lives. But as Meg learns more about Fabrizio and meets his family, Meg begins to believe a marriage between Fabrizio and Clara is Clara's chance for that normal life, all the while not telling the ...-
Written by Huggo
Clara(Mimieux) is a very beautiful 26-year-old woman with the mind of a pre-adolescent child. Her innocence has caused her a lot of trouble that's why her mother(De Havilland) decided to let her go on vacation to Italy. There she meets Fabrizio Naccarelli(Hamilton) who gets smitten by her beauty.
At first, if one has not read the book, you might think that Fabrizio is out to treat Clara as his prey, but later, you would catch on that Fabrizio is very sincere.
The actors chosen to play their respective roles did well, most especially Madamoiselle Mimieux. She played the part of feeble-minded Clara like it was tailor-made for her. She was Clara Johnson herself.
Rosanno Brazzi, who played the role of Fabrizio's father, looked so dignified and flirty at the same time.
Barry Sullivan, who played the role of Clara's dad, Noel, was so effective that I wanted to throw something hard at him. Yes, he was just worried about his daughter, but Meg Johnson knew what she was doing.
I would definitely watch this again.
:-)
George Hamilton, Olivia de Havilland, Rossano Brazzi and Yvette Mimieux
Io amo Firenze! Gli scenari sono belli e la grafica è superba! Le scarpe in pelle sono favolosi! Il film mi ha fatto rivivere la mia visita a Firenze. :-)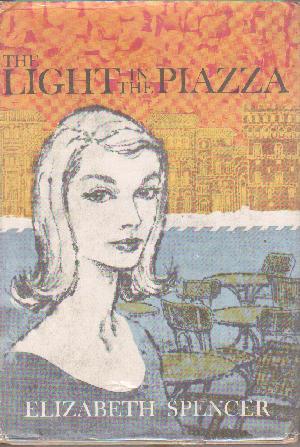 (The book the movie was based upon)
Directed by
Guy Green
Produced by
Arthur Freed
Screenplay by
Julius J. Epstein
Based on

The Light in the Piazza
by Elizabeth Spencer
Starring
Olivia de Havilland
Rossano Brazzi
Yvette Mimieux
George Hamilton
Barry Sullivan
Music by
Mario Nascimbene
Cinematography
Otto Heller
Edited by
Frank Clarke
Production
company
MGM
February 7, 1962 (USA)
Running time
102 minutes